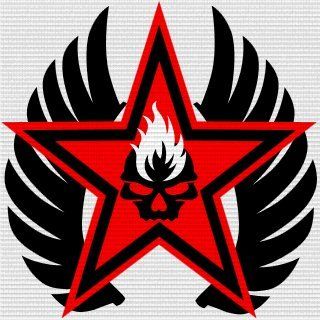 "The Forgotten"
This Guide brought to you buy Maker of "The Forgotten" Platoon in Battlefield 3 (no were not all snipers) with help from friends and DigitalWarfare24/7 Forum members input and direct assistance.
Disclaimer: This Guide is an Operations based sniper guide meant to assist you in becoming a better Sniper / Recon player in Battlefield 3. All feedback is appreciated. All pictures so far are courtesy of Battlelog and are generated or found there I do not own the rights to these images. Thanks to Dice for the game and the Battlelog system. Without it you couldn't track my pitiful stats and I wouldn't have had any good pictures for this guide to keep your eyes from bleeding to death.
Planned Updates : A more comprehensive tactics based update. Possibly delving into specific operations details. More SOP and possibly again a section for such. This one will take a while to accumulate the information for and write, don't expect it soon. But I will have it available eventually. This ones also going to require a great deal of assistance from some of the usual helpers, so it depends on their time frames as well, not just mine.
Update Section:
07 / 17 / 2012 : "Behind The Trigger" updates to Bi-Pod / Strait Pull Bolt and added JNG-90 vs L96 section with videos and pictures. Added "Team Dope Mechanics" Under Gunnery Basic V: D.O.P.E. And fixed the guide from certain code death again. 24/7 get your site together!
07 / 08 / 2012 : Part 4 of 3 : Repair mode. Fixed the guides bugging out, swapped some pics for video and added small sections all over. Updated pistol selection again and am currently moving through the list of things
07 / 08 / 2012 : Part 3 of 3: Added selecting the right rifle and SV98 vs M40A5 section under rifles with full results. Also added a behind the trigger update on several rifles and the Strait Pull Bolt. Updated Negative space with short vid. Updated scopes with pictures of cross hairs.
06 / 20 / 2012 : Part 2 of 3: Added updates to the new DLC rifles.
06 / 06 / 2012 : Part 1 of 3 : DLC Guns added to list with explanations and details to come... And thanks to Symthic, accuracy ratings for each gun while ADS. The lower the better.
04 / 30 / 2012 : Part A : Added extended rifle and scope reviews (Rifle section and Ballistic section) + Fixed Minor Spelling / Edited some descriptions.
Part B : Will be conducting a test with the M40A5 and SV-98 using the 12x Scope and a Bipod over the next month or so. Recording progress and results. This will be held on a discussion topic and anyone is welcome to give info or intel.
M40A5 vs SV-98
01 / 27 / 2012 : Updated PKS-07 and 8x Riflescope under gunnery advanced and added one of my regular sniper rigs to the list.
01 / 02 / 2012 : Removed guestimated ballistics charts from Advanced Ballistics scopes, added an apology there under and modified my opinion of scopes as some have changed. Added attachment "Flash Hider"
12 / 20 / 2011 : Updated Rifle section with velocity / range number. Updated Field Notes. Fixed some spelling errors.
12 / 19 / 2011 : Added
Recoil Dependency
under Gunnery Basic / DOPE shots. Added recoil type to each rifle after rifle name.
12 / 16 / 2011 : Added QBU-88 and L-96 AI sections and Updated most Non Optic Rifle Attachments.
12 / 10 / 2011 : Updated Field Notes with full ballstic chart found on google and a cheatsheet for fast field work.
12 / 01 / 2011 : Updates to Tactical Flashlight, Laser Sight, and preferences for PKS-07 / 1911 Suppressed.
11 / 24 / 2011 : Because I do work on thanksgiving. Pics, and a few minor changes. Field Notes officially added. Officially Version 1.2
Key:
------------------------------------------------ 
A: Introduction
If you don't know by now I am a huge fan of what works and what is practical. I've spent so many years sniping in various videogame shooters that it even transcends genre. When I picked up the first person shooter at eleven this was no different. Precision wins.
That said I have learned a lot over the years as a gamer, gun guy, and a human being. All of these have assisted me in building this guide. With the help of many forum goers who will diservingly get credited we will shortly begin.
This guide is meant to give you what I call a "Fighting Sniper Guide" and is based very much on the operations therein rather than the statistics you will see posted on internet websites giving you the games basic functions. I will teach you how to apply these tools you are given in the best manner I am able to describe. If any of this is mistyped or difficult to comprehend please say, so that i may fix or make the learning process easier. I teach how to make fire, not douse you with fossil fuels. 
B: Long Rnage Optics
--I : 8x Rifle Scope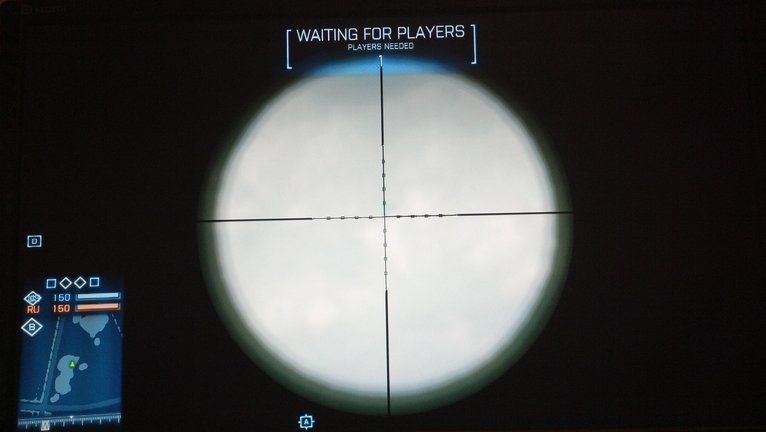 This is the basic Rifle Scope you get with any standard American sniper rifle issued in Battlefield 3. It has the standard mildot system and is to be used thusly. It offers excellent target aquisition speed and a farmiliar system for anyone who is used to the dots and crosshair. Four mildots in each direction from the center create a grid of coordination in which you can measure elevation and movement.
--II : 12x Ballistic Scope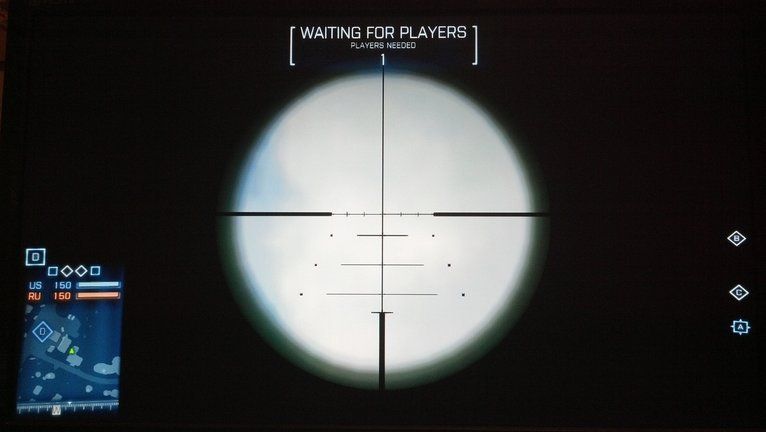 The scope to use when you have to be spot on from very far away. The ballistic scope is similar to the 8x Rifle Scope in that its reticule is very farmiliar. It is more of a mix of ballistic and TREMoR style scopes but it does its job well and the added lines and dots to help with aquiring a moving target that far away when needed. This is the scope to use if your that good at making shots, Shooting at stationairy targets, or have a very big need to see a small spot in great detail. Counter snipers prefer it as well.
--III : 7x PKS-07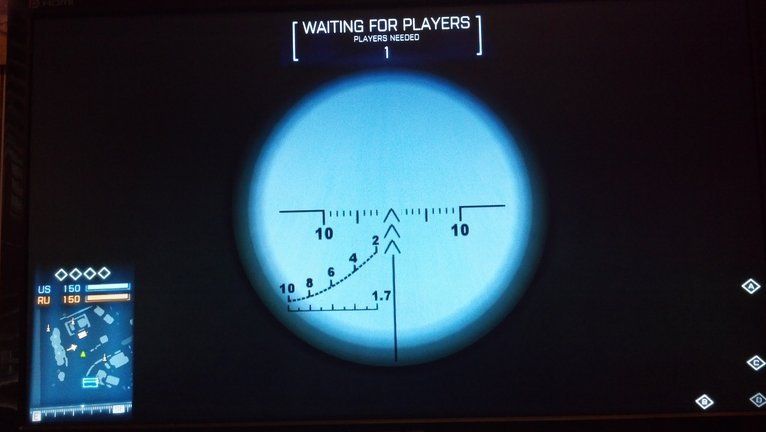 The "Upside down Chevron" recticule everyone I know personally hates. It is both simple yet baffling until you learn the system behind it. (look for the gunnery section) This scope offers you the widest field of view in the entire range of scopes available and should be used for that reason. its slightly lower magnification allows you to use more of your active vision to engage targets and can lead to better situational awareness even if it is a very minor advantage. In my opinion the reticule is the reason to use this scope. You can see your bullet "Drop and stop" so you are left with an absolutely pinpoint bullet travel path simply because the recticule does not get in the way.
C: Rifles
As a rule I didn't intend to add statistics to this guide However the need has facilitated itself. I'll list the shots to kill during core. Bolt guns in hardcore will one shot kill anything up close in Hardcore and 2 shots is all you will ever need no matter the rifle. For core Bolts are headshots always and Semi's are headshots with multiple body shots. The SKS is the deal breaker as at extended range it is not able to OHK headshot currently. I will keep an eye on this and update the guide as needed.
Update : 06 / 06 / 2012 : Accuracy Ratings while ads courtesy of Symthic Advanced Gamestats.
07 / 08 / 2012 : "Behind The Trigger" Updates : Added this section to help with specific things I've noticed while operating the rifles in question. Some will be skipped as I just didn't use them enough to get enough feel behind them. I never intended to write "memories of a virtual sniper" but that's essentially what you should take these sections as. Time spent behind a weapon system employed in one way or another. What I've done with each one and situations that arose because of them. Both the good and bad and will be an alternative take on the standard methods I've done so far. I will update them over time without time stamps however as they are an ongoing process.
--I : MK11 Mod 0 : Recoil : LightAccuracy rating : 0.0167Muzzle Velocity : 550m/sMax Distance : 2750m

Once unlocked for both sides unless you have a severe issue with this gun I sugest it for all CQC / Medium range sniping opportunities. Rate of fire and reload of the semi automatic and the versatility of using any attachments you want on it seem to be proper for the ranges it does well in. It also has the lowest visual presence onscreen when running so you have a far more clear picture of what you are dealing with. Suggested Kit, 4x Acog, Bi-pod, Suppressor
04 / 30 / 2012 Update: This gun has served me well as a DMR using it as the suggested Kit. It has also served semi reliably as a sniper suppression system running it with a ballistic scope and laser. While I still prefer it over most other semi auto rifles It still has all its usual goodies.
07 / 08 / 2012 "Behind The Trigger" : Several deployments on urban maps shoved me into using this over the Dragunov due to its faster reload and accurate ability to put fire down on many incoming targets. This gun is in my opinion one of the superior semi auto rifles in the game followed closely by the EMR and QBU-88. This gun has been with me through hell in Op Metro and other such areas I had no business taking a sniper rifle. Suppressed and suited well to that sort of combat with an acog and bi-pod the gun shines. It has saved me from multiple deaths in CQC with hip fire before switching to a pistol and has given me the ability to do that then immediately move from cover and fire on an enemy far past the reach of my squadmates who were packing AR's or LMG's. Alternative Behind the Trigger suggested rig doesn't change...
--II : SVD (Dragunov) : Recoil : LightAccuracy rating : 0.0167Muzzle Velocity : 530m/sMax Distance : 2650m

In many ways it is the sister of the Mk11 so many of the same things apply here. However the Daagunov's profile is somewhat more ambiguious. Suppressing it or using other attachments only make its strange profile stranger. It by itself is difficult to spot whereas the Mk11's streamline design is an eye catcher. Suggested Rig, 3.4-8x Optic, Grip, Tac light.
04 / 30 / 2012 Update: No update on a Russian gun from the guy who usually uses them would be horrible blasphamey right? Sure thing. This unlovely weapon has given me a bit of hard earned practice. Not a lot but i did manage to pick up a RDS'd Dragunov in a very open map and proceeded to make decent shots out to around 300 yards. Worked my ass off getting them there but it worked none the less. It wound up working so well I tried a similar variant of my suggested rig and went on to make great strides in mid range combat. Shows what the semi's are capable of.
--III : SV98 : Recoil : MediumAccuracy rating : 0.0Muzzle Velocity : 520m/sMax Distance : 2600m

The slower version of the M40A5, theres not much to say about this gun outside its the first bolt action and is slightly slower between shots and reloads than the M40. While both do identical damage it is again in my opinion this gun is strictly for the Russian fans or the people wanting less profile on the screen as the M40 seems to have more (but not by a great deal). May have but is unconfirmed to be fastest to deploy the bi-pod. The SV98's claim to fame over the M40A5 is only slightly less bullet drop over range and its slightly superior bullet speed. Suggested rig. Bi-pod, PKS-07, Tac light
04 / 30 / 2012 Update: In this world no news is bad news and that spells extra for my previously favorite rifle. The SV-98 has seen almost no love from me recently and has only aided me when picked up from randoms. I still enjoy smirking realizing its slightly more ballisticly superior to the M40. However expect this section to be updated soon as I am holding a comp of sorts between this and the M40 over the next month.
07 / 08 / 2012 : "Behind The Trigger" : Look who got some love. The SV98 has recently been brought to the front of my questioning again as a big "why?" gun. Well lets get down to tacs on it. Supposedly it has better hipfire than any other bolt gun by a slim margin. This means it gets to be stupid good at very very specific things. Now you guys who know me know I got a thing for gimmicks when they are consistent. This also means at close range running a nice laser sight is now a good thing. After five staring my M40A5 its time to go back to basics on the old girl and see what shes made of. Expect more. layla's not dead yet.
--IV: M40A5 : Recoil : MediumAccuracy rating : 0.0Muzzle Velocity : 490m/sMax Distance : 2450m

This is my personal workhorse (terrified yet?). This is a total upset coming from the guy who usually prefers Russian guns. But the fact I can mount it with the PKS-07 makes it ok. Its faster to reload than the SV98 and its faster to cycle the bolt. Thats more shots downrage faster and slightly faster target acquisition. Its preference most of the time but these are the facts. The slower bullet speed should not deter your use if you prefer the "faster" alternative. Same accuracy, faster reload, faster cycle rate. Suggested Rig, 4x-8x, Bi-pod and Tac light.
04 / 30 / 2012 Update: Still ridiculously favored at 420 kills since I wrote in the guide last I have not touched this beast. I did however change a few preferences and will now be operating both this and the SV-98 with a ballistic scope for a future test. May the best rifle win. Keep an eye out for that update.
07 / 08 / 2012 "Behind The Trigger" : If this gun could talk it would tell you that its been there through thick and thin. My go to rifle even now with the JNG-90 available this is still my professional killers choice. Ive handled CQC opponent after opponent, switched to pistol only to go on to remove entire squads from buildings. It has saved me on occasions where being run upon by two guys were immediately reduced to zero. It is now my go to when teaming with my ressurected squad and we use the 8x unless the 12 is mandatory. What I never achieved with any other rifle I have done with the M40A5, sometimes at a severe disadvantage. Firing up hill while suppressed using an acog for example, vs a 12x M98 user. I attribute its success to its rate of fire, which seems perfect.
My best memory of this was a game where I threw off my bipod in favor of a strait pull bolt and stayed mobile. 20+ kills later and I don't know how many objectives retaken. I lived through a great deal of our assaults just by going around the peremiter of a base popping people who ran out and then entering behind our point with the M93R drawn. The M40 is the only rifle i also feel comfortable suppressing and still sniping at distance with. Op Firestorm +900 yard / meter shot with 8x / Bi-pod / Suppressor on a stationary enemy sniper. I was shooing into the fat part of the lines on the scope and was still able to hit him for a kill within a mag. Alternative Behind The Trigger suggested rig, 8x / Strait Pull Bolt / Tac light (or suppressor, situational)
--V : M98B (Barrett) : Recoil : HeavyAccuracy rating : 0.0Muzzle Velocity : 650m/sMax Distance : 3250m

Ah the "Sniper rifle with training wheels". Atleast thats how i feel about a vastly superior weapon with a really crappy cycle rate and reload. Where the SV98 is the middle of the road bolt, and the M40 its faster brother the "Barrett" is as usual the powerhouse. Unconfirmed faster bullet trave, combined with less of a drop over range make this the most useful gun at range at a glance. I have however failed on every attempt to headshot anyone past 500 yards with this weapon. At one time I believed it to be less accurate. It was in fact poor observation on my part that the 12x Ballistic scope with this guns high recoil was making me believe my bullets landed in one place on my scope when in fact they landed a good deal higher. Take note of this on any high recoil sniper rifle and watch closely as your scope resets when shooting from a bipod. Suggested Rig, Long range optic of your choice (12x is all we have as of now), Bipod, Tac light.
04 / 30 / 2012 Update: I owe the M98B so many apologies by now that its disgusting, my best sniping game on Op Firestorm, my best sniper score and now sadly my longest head shot in the 900 yard range somewhere now all belong to this slow rifle. I would like to say its superior marksmanship that did the job and it could have been but until I get out there and re-prove my worth as a sniper this gun is now my top firearm. I hate to say it but it really does look like its shaping up nicely to steal the M40's job.
07 / 08 / 2012 "Behind The Trigger" : What spurred me back to action after i realized id been lax in my sniping. The M98B punched me in the face like no other when my record longshot was taken with this at 12x + bi-pod. I Immediately set out to prove it wasn't the gun I was doomed to use and did so with both the SV-98 and M40A5 shortly afterward. If anything this gun has been a big help in developing this guide and I regret no time lost behind it. An excellent counter-sniper tool this gun should be used when you have to make those shots fast and follow ups aren't an issue. I doubt i would have ever bothered with the guide had this gun not pushed me to do so. Behind The Trigger suggested loadout... no change.
--VI: EMR : Recoil : LightAccuracy rating : 0.0167Muzzle Velocity : 570m/sMax Distance : 2850m

This gun makes the Dragunov and Mk11 look like remedial students. Its kick is only slightly more than either of them but when gripped or bipods are deployed it is the same or negated entirely. If your in the thick of fighting and didn't bring the Mk11 or Dragunov, this is what I hope your carrying. Possible future balancing aside however it largely does the same job as the Mk11 and Dragunov with the farmiliar swaps of reload time, rate of fire, armed reload etc: Treat it like the other semi auto's and you'll do fine. Suggested Rig, Mid range optic 3.4-7x, Bipod, Suppressor.
04 / 30 / 2012 Update: Gone fishing never to return. I spent some time in some CQC maps just doing basic op work I could have done with the Mk11. Later dealing with a lot of rushing moments where thanks to its kick even with the bipod deployed I was very annoyed with the result. Im giong to reconstitute this as one of the more mobile gun options as it does work well when gripped and used with acogs. Can be a good long range weapon as well due to its high velocity but i feel its still better suited to CQC.
--VII: SKSRecoil : LightAccuracy rating : 0.1Muzzle Velocity : 440m/sMax Distance : 2200m

The SKS is the CQB Rifle of choice for the Recon class, it lacks any real ability to do work at its maximum range in core and even hardcore game types but it is excellent in mid range fights where precision is needed. It stacks up about as well as the rest of the semi autos here the only qualifier is i would not depend on it for extended ranges even in the same fashion you could with the EMR, Mk 11, SVD, or QBU. Suggested Rig, Holographic - 4x zoom, Grip, suppressor / Suppressor.
04 / 30 / 2012 Update: What are you doing in my guide pseudo sniper rifle? I thought seriously about removing this gun as a whole then realized I might as well leave it. Its still what you'd expect however in sight of changes I have to change my recommended rigging to suppressors.
--VII : QBU-88 : Recoil : LightAccuracy rating : 0.0167Muzzle Velocity : 550m/sMax Distance : 2750m

The QBU shares a great deal of its statistics with the already farmiliar semi auto rifles, good rate of fire, decent accuracy and a penchant for getting you out of tight places if your lucky. Its damage is on par with the other rifles and it comes with a flash hider for no particular reason. Again its a semi auto with farmiliar ballistics and issues here and there. Reload times and fire rates are about the same tradeoffs you would expect. As the only bullpup designed sniper rifle it does give you better urban profile. You won't have to worry as much about getting closer to windows and corners and giving your position away. It also causes it to have a slower reload than most of its siblings, take note. Suggested Rig, Mid range optic 3.4-8x, Bipod, Suppressor.
04 / 30 / 2012 Update: Without its flash hider this gun just falls back into place as a suppressed profile eliminator. Good gun though. Not nearly as likely to run it as I was before the flash hider removal. For anyone interested in actually sniping with it i changed my rigging suggestion from 3.4-7x to 3.4-8x seeing as the 8x will perform better with a suppressor.
07 / 08 / 2012 "Behind The Trigger" : If you brought something to CQC and it wasn't this you lost. Best hipfire of any sniper rifle in the game + laser sight, and this thing gets stupid fast. Saved me more times than i can even remember in close and still has the accuracy to punch peoples faces at range. excellent when equipped with the PSO-1 PKS-07 or 8x Rifle scope. this Tool kept me from death and has been the savior of many squad mates in close as well. Any map where mid range sniping and CQC have been an issue this gun has followed me there. Do not be afraid to diversify into different tools, they are fun to use and there for a reason. Bring what you need. Behind The Trigger suggested load-out no change.
--VIII : L-96 AI : Recoil : HeavyAccuracy rating : 0.0Muzzle Velocity : 540m/sMax Distance : 2700m

Candidate for sniper rifle of the year / game goes too... Obviously im overstating this but it is from what I can tell so far "the other Barrett" Its ballistics seem to fall somewhere between the M98B and the other guns in the lineup with none seeming to measure up to the L-96's ballistics. Unlike the M98B I feel this gun is very accurate and capable of making 500m headshots on moving targets using the 12x Ballistic Scope. It cycles faster and reloads faster than the M98B as well making it my go to long range gun. Suggested Rig, 12x Ballistic scope, Bipod, optional. 
04 / 30 / 2012 Update: After the flash hider loss I began to find other weapons that were more suited to my needs. Sadly the M98B's power and superior ballistics destroyed my beloved L96's reign as my go to Magnum gun. However it has spurred me to interesting changes and I hope new and brutal results will come of it. This change facilitated the SV-98 vs M40 you will see soon. She's still the long range work horse though, make no mistake. Though sadly its taking more work than I'd prefer to keep her there.
07 / 08 / 2012 "Behind The Trigger" : A great deal of my sniping with this recently has taken place onn Gulf of Oman and has been nothing but pruning other snipers. Realizing this was a mix of the M98B an M40A5 I attempted to replace both with one rifle getting decent results. If you want ONE gun, that will pass for both, the L96 is it. I personally would take the M40A5 over it but that's me. The reasons are all there in the numbers, the L96 is just a slower M40A5 with better ballistics, a "Magnum" if you will. While i'll always like this gun, it has never given me the safety, reach, or flexibility of the QBU-88, M98B, or M40A5. Behind The Trigger suggested loadout, no change.
--X : M417 :Recoil : FeatherAccuracy rating : 0.5Muzzle Velocity : 450m/sMax Distance : 2250m

I give you... Magic. Im kidding of course but this gun is stupid good. Twenty one rounds and a 0.5 accuracy rating make it a step between the SKS and the Mk11. But that makes it the real Designated Marksman Rifle of the game. Capable of head-shots cross map if your lucky / up to it. This gun has what every fighting sniper wants. Power, ammo, and acceptable accuracy. If your in medium or close range and chose another gun, im sorry, you chose wrong. My preferred rig with this gun is very similar to the Mk11 but I'm going to separate this into two sections so the details are explained exactly as needed.
Mk11 vs M417; With a slower muzzle velocity by 100 than the Mk11 the 417 is directed at the DMR audience especially considering its accuracy rating. Which again falls short of the standard. What is interesting however is that this gun makes up for that by having the twenty one round magazine and decent all round stats all be it in the sacrifice of its true sniper level accuracy. With longer arms, OHK headshots and basic superiority to the SKS I have to say this gun shines. Now for its falls. Vs the MK11 its almost undecided between people which is better if your using it as an actual sniper rifle. Now we get the kits together.
This gun has become my CQC sniper rifle of choice Bipod, Suppressor, Acog because it can still reach out with ballistic performance but your not kidding yourself with the 12x or8x scope. Whereas the Mk11 can be a substantial threat way off in the horizon. This gun also performs VERY well with the laser sight attachment. When running with your team in close nothing beats that assisted hip fire you may have to spam to stay alive. Suggested Rig, Bipod / Laser / Acog or 3.4 with ballistic markings.
07 / 08 / 2012 "Behind The Trigger" : This is the second best CQC rifle i can think of for a sniper. If your DMRing it up however this might just be your new SKS. Capable of head shots crossmap and still fast and accurate enough from the hip to take out any foe you run into consider gripping this beast with a laser sight and Acog at most then go to town. Saved my life countless times as it has my squad mates. A particular favorite of mine for pruning engineers / support players who try to prune my tanks with drills or c4. Its forgiving enough for anyone to use and learn to snipe yet its also good enough to be a Semi auto CQC tool. Don't get rushed by SMG's and you shoould be just fine. A fine addition to the CQC DLC no matter how much i hate the maps. Behind The Trigger Suggested loadout, no change.
--XI : JNG-90 :Recoil : SpecialAccuracy rating : 0.0Muzzle Velocity : 560m/sMax Distance : 2800m
This Turkish bolt gun has one hell of a good shot pattern. Better than that its slightly faster than the L96 and it has more ammo for absolutely no drawback in my opinion. It has however a very special recoil. This gun doesn't jostle the scope around randomly and resets before your breath can give out. That means it is very much like the M40 with a strait pull bolt. If your a sniper on the go this could very well be your "magnum" choice. Its is easily working its way into my main long range bolt gun scenario as well.
Given the chance to work with this on OP Firestorm and some other maps (even some cq maps) i will place this between the M40 and the M98B squarely and its just as special as both of them. This gun really doesn't have much going for it than its special recoil shenanigans and its faster bullet speed, and thus more range, than the L96 however if i wrote to you about stats all day you could check any other guide. The JNG-90 brings a lot of pain in the same fashion the M40 and SV98 will, As they have the same OHK range in hardcore and on top of that still perform very well at any suitable range.
A little additional point on the JNG-90 is that I have had very good success using it with a laser sight to improve its "panic fire" when moving with the team. It doesn't help a lot but it does work pretty well when given the chance. Anyway bottom line: Suggested Rig 12x / Bipod
07 / 08 / 2012 "Behind The Trigger" : The JNG-90 is what spurred me into the strait pull bolt world as it started my fascination by being very stable when fired with no bipod. Something i still cannot say for the M40A5. This gun really shines when given the proper time to learn and get the feel for. I've had limited time behind it but it feels much more like a guardian angel style sniper rifle as opposed to a counter sniper. Behind The Trigger suggested rig, PKS-07 / Strait Pull Bolt / Tac Light.
07 / 17 / 2012 "Behind The Trigger" :

12 x / Bipod / Laser sight today yielded not one but two ridiculous head shots. The longest one featured in the picture, the other still in the 1200+ category. This shot was also duplicated at great expense to my accuracy with the strait pull bolt. This means that the JNG-90 with either an 8x or 12x scope is capable of up to 1300m shots with accuracy if the shooter is up to it, realistically, on consoles. On 8x your simply firing at dust clouds which is very tedious. With 12x your still shooting at dust clouds a lot at that distance but you may catch a one or two millimeter high guy running around from time to time and get enough DOPE info to put one in his noodle.
--XII : Selecting the right Rifle
Don't expect me to gush over this or make overly large analysis. In the end which ever you favor is going to be due to your experiences, not mine. I can only tell you the basics which I will be doing with my "Behind The Trigger" sections above and give you this simple paragraph to chew on. The Idea behind the rifle you choose be it semi or bolt is that it fits the way you play at any given moment. By now we all know what we like to do.
--XIII : SV98 vs M40A5
(Pics Brought to you by Motorola's Droid Razer Maxx) Pictures also taken in Normal mode so the menus can be used for references.
Lets go comparison. For this test the rifles will be judged on things that aren't painfully obvious when not putting them side by side. So lets take a look at what they look like running around Caspian Border... shall we? I'll be running an 8x / Strait Pull Bolt / Laser Sight as I've confirmed there is no discernable difference when the bipod is deployed.
So ladies first... and were running.. SV98
M40A5
Statistical analyses (Stats provided by Symthic)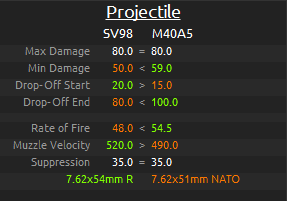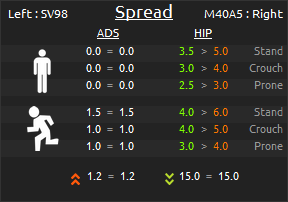 SV98 vs M40A5
For reference: SV98 / M40A5
Recoil : Medium / Medium
Accuracy rating : 0.0 / 0.0
Muzzle Velocity : 520m/s / 490
Max Distance : 2600m / 2450m
Interesting statistics no (also lol at the 7.62x54mm R being listed as superior to 7.62x51 NATO, I may like russian guns IRL but we all know that's a good laugh.) Anyway on to actual stuff that matters. The stats here speak for themselves when your actively playing though. In core or hardcore the results should be the same. HC you get chest ohko's in core you just get more damage. Seems to work unless my modifiers are off. What im here to talk about however is the fact that there is only a 30 difference in muzzle velocity, very little damage difference at all and a commonly superior handling in the SV98 exchanged for an uncommonly faster bolt cycle rate.
Does this make you choose one gun over the other. Possibly. What you should be looking at here is your operations. The way I've operated in the past I need a faster bolt cycle rate and I need that reliability. Both of these rifles will be reliable for you. I have no doubts of that. Especially given their similarities. Here's a fun fact I didn't know until these tests began. The SV98 and M40A5 are both faster to cycle than their kin bolt guns. Giving both of them a decided edge on the follow up shot vs others. Of the two naturally the M40A5 is faster, but the SV98 has slightly superior ballistics and handling, fair trade.
In this Shoot off it is of my opinion that both guns are equal. I May have favored the M40A5 in the past feeling like the SV98 was inferior but after this test I do not believe it to be the "slow child" I once perceived it as.
--XIV : JNG-90 vs L96
A test I originally had no intention of producing for the simple reason that the JNG-90 seemingly holds all the cards here. But in a spur of the moment request I was asked to visit this possibility and give my opinion. Since "Half way" isn't my way here's the whole thing in a nutshell. As per my "comparison tests" heled in "Behind The Trigger" updates this one will be run with the same 8x / Strait Pull Bolt / Laser Sight
JNG-90 Running profile / Going Prone / Crawling Profile
L96 Running / Going Prone / Crawling Profile
Statistical analyses (Stats provided by Symthic)
JNG-90 vs L96
For reference: L96 / JNG-90
Recoil : Heavy / Special
Accuracy rating : 0.0 / 0.0
Muzzle Velocity : 540m/s / 560m/s
Max Distance : 2700m / 2800m
With the distinct statistic advantage levied on the JNG-90. Many people will easily abandon the L96 thinking it inferior in the beginning. With even identical handling and the two guns being very similar (especially for DLC weapons) I will stick with the JNG-90 myself simply because the L96 never fit in with me well. But it has its advantages that need to be mentioned. Below are direct shots of just standing behind the rifle. The profile changes very little between the two standing, crouching or prone.
Again it is barely noticeable the difference between where the weapons sit on the screen however take a very close look at what you've seen in the running videos and see here above for each rifle. the L96 is consistently more "out of the way" when moving or standing still than the JNG-90 if only by a little bit. This is less negative space when fidgeting or bumbling around. Well since I now have the power to make short videos on the subject. Here are two basic run to prone drills with each gun. They show you similar profiles and an interesting comparison when considering that this course is designed with a mobile sniper in mind using our standard 8x / Strait Pull Bolt / Laser sight actions.
As you can see the L96 does take up less space on screen while prone moving and falling to prone from a sprint. This will give some advantages to the older DLC gun if your making a lot of last minute adjustments to position and need to see very clearly whats going on. I wont lie to you though. I feel these "soft" advantages do hold up a great merit but it is not as if the L96's differences in this regard are as drastic as the differences in the SV98 vs M40A5 test were. Does the soft advantages sway you to the L96 with its lower on scree profile and ability to shoot behind cover somewhat better than the JNG-90? Or does the JNG-90's better ballistics and faster bolt cycle rate make it feel better to you despite its slight differenes? In my book the JNG-90 comes away the clear winner of the test. Be it by only a hare. As usual though I'll take this time to remind you, an experienced sniper with the L96 will always beat a rookie with the JNG-90. No excuses guys between these two, I'll throw it up to preference.
D: Non Optic Rifle Attachments
--I : Bipod :

This attachment is the reason you should be playing recon and be paying attention to cover. If you want the steadiest shot ever this is for you. What this actually aids in however is multiple shot accuracy from a very fixed position. If you fire a shot and know where it goes the bipod will hold that exact spot perfectly even when reloading if you do not touch the sticks. The only real draw back is when deployed you can only look in about a 130 is degree arc. It also tends to cause you problems when prone if you need to ADS quickly and do not care to use the bipod. When in rough terrain it is also very very prone to be difficult to deploy. The elevation difference makes this more buggy than youd think and in some cases it doesn't make a lot of sense. The best idea i can give you is if you think the bipod should work there adjust your side and depth movement to see if you can line up the bipod with its proper placement it will deploy. If you can't get it in the first few tries its probably not going to work without adjustment.
--II : Strait Pull Bolt :

Cycle the bolt while staying ADS good for those moments when you must take awkward shots or multiple in quick sucession. This actually speeds up the rate at which you can get shots out because you no longer have to wait for ADS speed to be a factor. take it for what it is, it makes you cycle the bolt actions at a higher rate. This is good for mid range snipers who dont venture to the long or extreme ranges. This is extremely useful if you are engaging multiple opponents at any range and especially when shooting with elevation where your bipod may cause you to wait longer between shots.
07 / 11 / 2012 : "Behind The Trigger" : This attachment also started the "Behind The Trigger" Update system. I am now doing a lot more work with it and it has paid of very well. The only advice I have to add at this time is to make sure you have a solid way to dope your rifle shots.
Some rifles will have a naturally easier time doing this out to far ranges. the faster the bullet travels the flatter your trajectory, this means that your gun will be easier to dope but harder to shoot precisely behind cover. However this tool has now found its way into a mainstay of my work. The strait pull is also nice if you work closely with engineers or vehicle crews... think about this as you watch this short video.
--III : Laser Sight :

Steady aim for your sniper rifle you can turn on or off. Honestly if you play hardcore i think this might be somewhat useful if you get caught with your pants down. Hands down the best tool for "no scoping" in hardcore it has little effect on Core due to damage and other factors. I recomend using it actively on semi autos outfitted for closer range combat. Acog / etc:. Remember this can be toggled on and off with the press of Up on the D Pad.
Apparently during an update the ability for friendlies to see your dot at range has been removed or was tweaked in a patch after I stopped using this tool. You can no longer cross map door point etc: though it does seem to have its uses up close still. Use it as a pointing device in close if they can see your laser sight but honestly since the update its just as good to point with your character models rifle or a suppressed pistol round.
--IV: Tactical Flashlight :

Same here as it is for every other gun. This is best used on semi autos with low zoom scopes or no optics at all. Best paired with Dragunov / Mk11 / EMR due to their two shot potential at CQC ranges. It can also serve as a signal for friendlies if you have a communication system worked out (don't do morse code, just dont.) This can also be toggled just like the laser sight using Up on the D Pad to do so.
The question has been posed if not morse code how do I use this to signal teammates for whatever reason. I use this attachment to point obviously to something at a short distance or out a dark window so a friendly may find me or know where I am. Sometimes communicating "Im in the third window from your left second story blue buildings" could be condenced to "Look left for flashlight." much simpler and faster all be it not exactly as precice of a comment. Flip the light on during your callout and off after he confirms hes got your location.
--V : Suppressor :

If i see this on any sniper rifle thats bolt action I will slap you. the M40A5 and SV98 are the exceptions but even then id be seriously worried about your sanity health and over all well being. What it actually does is drop the overall damage, bullet speed, and makes your guns bullets drop faster. That said if you feel it is absolutley necessary this tool can be used to mask your shooting profile from cover very well. Especially if you are in a bush or inside a building. The trade off is not worth it in my opinion. You are still going to be "headshot capable" at any range with this. But making some of the fine tune adjustments to hit at those ranges even at 500 yards can be a serious pain. Obviously you do not show up on the map or radar if firing a suppressed weapon.
Since the Back to Karkand map pack released suppressor use has skyrocketed. With the big changes that came mainly the L-96 popularity and its heightened ballistics over other rifles combined with its faster cycle rate than the M98B it is safe to say that the L-96 is partially to blame for this. I still stand by my statement that the M98B and L-96 are the go to suppressed head shot sniper rifles while the rest are situational or meant for close to mid range conflict.  
--VI: Flash Hider :
For those with access to these on any sniper rifle. You know that these can be a life saver, not a suppressor and it doesn't really do anything to your accuracy. At least not on any noticeable scale. When mid range sniping this is a life saver like no other, no flash only a bullet, very rare to find a sniper who knows how to hide properly this or a suppressor depending on your skill-set or job description, take that how you will, can give the equipped sniper a very important edge that none of the other third attachments can. Unhindered Stealth. While the Suppressor does this well the Flash hider does it better because you are not sacrificing bullet trajectory or power for silence. Your just covering up that annoying flash that comes out the end of the firearm.
The honest problem here is "does it really affect your accuracy?" From what I've noticed not a great deal. It may but it could also just be me missing shots. When I used this on the Back to Karkand maps I felt like it was just another attachment on the gun that was only beneficial. Know I don't often use suppressors so this attachment is particularly attractive to me because I never tend to be that sneaky unless I'm up close. Then that pistol gets a workout. In my experience I may have lost one of ten shots to the flash hider. It is technically possible.
*Update
Ok after the server renting update we've been "balanced" and no longer have access to the flash hider on any sniper rifle in the game. I did not feel the need to delete this section simply because I feel as if they re-balance or re-introduce them I do not want to rewrite this entire section, be aware.
E: Sidearm Selection Methodology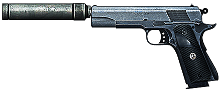 --I : Your needs :
This is one of the biggest favor fests you always see with snipers, sidearms. Do I go 1911 do I go G17C, blah blah, Bottom line here is test your gun out in core if you play hardcore and thats where you'll get your best results. The biggest debate tends to be rapid fire vs heavy fire. Rof / Damage if you will. This is always the trade off but hey were smart we know what we can and can't do or handle. The standards here are the 1911, M93R, G17C, and the Rex. These excellent examples show exactly what you can do with a properly selected backup weapon, many snipers prefer the high damage sidearms for their follow up ability if caught out. I personally preferr the Suppressed 1911A1.
My school of thought on pistols has always been what your comfortable with. It can make all the sense in the world with numbers to match but unless it feels right initially you'll make mistakes. Thats not to say you shouldn't roam the pistol market looking for what fits you best. Untill you've picked up all the gear theres no reason to settle on a final choice. Just keep in mind what seems to do better from time to time and how much use you get out of your sidearm.
As a sniper tends to have a buddy working closely with them one thing has always intrigued me though. The Teamshot. Would wonly work with the .44 Magnum and the Rex at close range. But thats 1 shot from two people instantly taking someone down. if your that co-ordinated. I think i just covered any need you have regarding pistol selection.
On my preference with the 1911 Suppressed: I use it for several reasons, it is higher in power than the other semi autos, it fires faster than the magnums and does not give my position away in the process (suppressor). It also allows me to not have to worry about my rifles laser or light when I swap to my sidearm. As I will mention later with the PKS-07 section I tend to move a lot as a sniper and don't just sit in one place. Im often between moving from A to C or actively hunting other snipers. Its very rare to see me chill on a patch of land for more than a minute or two. This means I need to be using the absolute best weapon I can as a sidearm to take down multiple opponents without making a lot of noise. That includes in open face to face firefights. I have a fast trigger finger and am accurate. Thus the higher damage 8-9 round mag of the 1911 Suppressed works well for exactly that application.
The Competetors brought up of the G17C / M9 / MP443 Suppressed variants comes down to a math equasion, The G17C has the highest ammo cap here followed by the MP443 and the M9. I used the G17C a great deal and it can get two bullet kills up close in Hardcore, three in core respectively. But at the range where those guns drop to three the suppressed 1911A1 is still one bullet ahead of them for half their mag. Consider even if I play core. It fires faster than the two shot pistols, its only requirement is that it takes three shots. and its mag holds nine rounds. That gun holds three enemies lives in its mag if your aim is on. While math will tell you the G17 holds ninteen rounds thats four rounds per kill. so It holds at the very least five lives in its magazine. At this point your surely thinking "if your so fast why not go with the G17C its a no brainer!" Ordinarely you'd be right. But the G17C does have one falling point. In order to get that second life ended you have to spend two more bullets. The 1911 requires three per life, 1v2 thats six, the G17C requires four per life 1v2 thats eight.
For this part to make sense you simply have to look at the application in front of you. Which kills faster silently and at what range? In core the 1911 kills faster by one bullet in close. In Hardcore up close both are two bullet kills. 3-4 Lives with little room for error or 5-9 Lives with little room for error? Again it sounds like the G17C has the 1911 beat. A very real concept comes to mind however. Core is the example three is less than four and I will have three out before you have four. Does that fourth bullet matter now? And for all the Hardcore guys, We may share bullet to kill numbers in kissing distance but my arms are longer.
Also don't consider the G18 Suppressed in this discussion largely because it is very difficult to aim at any extended range with.
07 / 08 / 2012 "Behind The Trigger" : After the update it seems to me the G18 suppressed is easier to control when ADS. Thus this is the section where the M93R and G18 will be discussed. Generally suited to CQC the G18 Suppressed can make more accurate shots at longer range than the M93R based on its recoil numbers while ads. The suppressor however makes its hip fire worse. Take note that the M93R is still a better hip fire spray gun while the G18 remains a good ADS assassin tool. These three are the guns I've been dealing with now for ages and its not likely to change. M93R for open fights or quick defense. M1911 Suppressed for lone wolf tactics, and G18 Suppressed for everything else. That's my recommendation for now.
--II : Conflicts with other gear :
If your running a tac light on your sniper rifle and on your pistol thats sweet. But you might get a conflict of gear if your running something like a laser sight etc:. The "on" setting is pandemic across your weapons. If you grab a sniper rifle with a laser and a pistol with a light, attempt to become sneaky and switch to the handgun, your going to light up the entire area in front of you before you realize to turn that handgun light off. Default position is "On" press up on the D pad to turn it off. this is the way it should remain as rifle user. Unless you need to do something very specific this is a hassle and also why I prefer clean handguns or suppressed ones without a lot of toys on them.
Profound moment in thought can also lead you to equip stuff you wont use or dont intend to use. its not a bad thing if your gun doesn't have something that might otherwise slow you down or get in the way. I run a tac light on my sniper rifle because I've gotten decent use from one. Its not always for show. 
F: Gadgets
--I : Mobile Spawn Point :
The essential tool of recon the MSP allows you to plant your spawn somewhere in which your team will not give away your position if sniping, or better are closer to the objectives than you are. This tool is often misused by snipers who are not playing with their team and are way way off not particularly supporting anyone and it usually results in their death. Sometimes multiple deaths.
07 / 13 / 2012 Update: Early on the MSP was patched to die along with the Recon player using it. Meaning when you spawn again the MSP dies no matter what class you brought. This has been known for some time but I felt the need to add it for the sake of completion.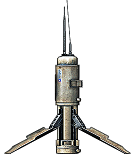 --II : T-UGS (Stationairy Motion Tracker) :
This little tool which I often refer to as "save my ass radar" tends to be more useful in Core gametypes but I'm a hardcore player here to tell you this things saves lives EVERYWHERE. If you have two of these going no one is sneaking up on you while moving at any rate of speed that will matter in an open gunfight. If you aren't doing MAV recon or working in tandem with engineers for SOFLAM use this is your go to tool.
Interesting things about the T-UGS system is that its range is sometimes larger than you would think, especially vertically. This tool can keep an entire buildings perimeter under careful watch as long as the enemy team isn't croutch or crwaling through a random building. The best part is that someone cannot just lay another T-UGS system near yours without alerting you to their approach, meaning your T-UGS system will not only catch their movement, but you will hear extra beeps. And if they arent careful see red dots on the mini map. Happy hunting.
--II : SOFLAM (Stationary targeting system) :
Oh range finder tool why do you stop at 200yards making my mind twist in the wind and my databook of ranges for scope calculation cry horrible tears of despair. Because it should be too busy locking on to aircraft or other annoying vehicles for Javelin users to care about doping your shot which you can do with your bullets.
Trei's findings
This system is amazing when you have a game on Caspain border or Firestorm with a team. More specifically a team of you and three guys running Javelins. Enemy armor? Blasphamey. You'll pretty much blow up anything that isn't a jet with this setup but again who cares jets hardly do anything except against other jets. Realistically however its just impractical to go for the jets as the lock on time of the SOFLAM and their obvious speed make target aquisition and range holding a nightmare.
--IV: MAV (RC airborne Uav) :
Obvious distraction GO! This tool aggrivates EVERYONE. Even if it isn't able to shoo,t no one likes these things and they pull so much aggro ive seen two tanks try to destroy one MAV. Suffice to say this thingis both powerful and useful without a weapon. When active you have a semi mid range IRNV system which allows you to see the enemy and friendlies so you can navigate and target things approrpately. It also has "Mini T-UGS" built into it, even when your not using it via your PDA. Plant a miniT-ugs in the enemy base by remote!? You bet. Support guys make this great too because you never run out of these atrociously annoying recon drones.
Clever useage and palcement can make one last forever. When flying around hold the highest altitude possible in urban maps for better perches and hidden locations to post it up on. The biggest drawback is one that ive preached about forever though. If your using the MAV actively your not doing much up front. And thats always bothered me in every game I play be it Battlefield or another game, even of different genre. Make sure you mix your time up with the MAV and your team and are using it responsibly. Your team needs you AND your box of toys. Don't assume the MAV will substitue for you. 
G: Specalizations
You'll want to take the ones important to you and to aid your active team so mix it up. But I'll hit on why each one works well and why sprint shouldn't ever leave your squad no matter the gametype.

--I : Sprint :
Faster running. From point a to point be 5% faster doesn't sound like a lot especially to a sniper but it makes a huge difference if your entire team gets this. And seeing as it is the first squad Specalization you unlock its easily the best one to use. Also aggrivates other snipers. Which is the point. If you have a team in harms way that is moving or fidgeting around. It makes it difficult for other snipers to kill them. Revealing their positions with fire and showing you about where you need to look. Suppressor or not those bullets fly the same.
Note: Sprint also acts as a great way to apply pressure. If you die and are respawning on a recon beacon near an objective a three man squad can begin to seem like a never ending army.

--II : Flak :
Excellent for those get in your face style players. If your sniping and someone on your squads running sprint. First thank them for not being an ass and grab something like this. Flack will allow you to live through some explosions that should have killed you. That alone is not going to win you a fight but every bit helps and this is very important to a Close /Mid fighter who puts people down with one accurate shot. Those SMAW's and RPG's seem a lot less intimidating when you can actually fire back with less fear.

--II : Explosive :
Snipers running explosives? What? Yeah that whole engineer team with the SOFLAM sniper example earlier. That is exactly what this is for. Those engineers can be using sprint or any other specalization to help them get around especially if they are lower level guys. More explosives headed to the enemy at the expense of what? Your a sniper not much.
--IV : Cover :
As lord of the longshot you better be able to make them. This helps a lot. Cover makes you more resistant to the effects of suppression and can also be as useful as Squad Flack in CQC / Mid sniping encounters. I try to use this in Operation Metro or Sienne Crossing where the action is almost always allover you. Again with the squad bonus you have three other guys most notably not sniping laying down more accurate fire on the enemy.

--V : Suppression :
The direct counter to cover. I do not sugest this for any reason what so ever. Suppression is nice for LMG guys and the occasionaly Semi Sniping you may do. However with Cover being what it is, and making you better I do not see a great point into putting the regular suppression back on the enemy. If your suppressing them with a sniper rifle, chances are you could just as easily be killing them.

--VI : Frag :
If your teams full of rush goons, believe me I have those in spades. This is useful to a degree. That team of shotgun monkey assault medics are not going to stop with grenade spam and now they dont have to. At the same time a support player could make up for this but thats less medics forward making the enemy regret their lives that much more. Specalized and limited use. I would pass this up entirely as a sniper.

--VII: Ammo :
It does what it says. You get more death dealing bullets. Im however going to throw this in with Frag. Its something a support member could be doing. But in their absense its the next best thing and allows for the team to be onthe move with plenty of ammo and not run out before possibly obtaining the next objective. 
H: Your Job as "Recon"

Long story short, your job is to make the enemy as miserable as possible. Snipe them, call them out, set MAV drones on their routes. All from decent distances and a relative safe zone. What I do not advocate is sitting 1000 yards away attempting hilarious shots you know you can make and want to because of the stat in the my soldier window that makes you smile. Get out there and make your shots but make sure they count. Be with your team as much as possible, being off on a hill sniping or spotting is fine, setting down your MSP and leaving it for the team is acceptable. As long as all of these things benefit the team itself. Never hesitate to leave your place of operations if you feel it is not getting things done, or if your team communicates they need you elsewhere.
--I : Countersniping :
This topic I totally forgot about early on because its so much second nature to me that it comes in my mind naturally. Countersniping however is a very common job of the Recon class and how you go about it makes all the difference. When I play with my team and anyone calls out a sniper they always spot them if available (again we play hardcore so im checking the map the minute they say something) Once I aquire the target if equipped properly i can do one of many things.
I like to start with the obvious, putting a bullet in their head at whatever range im at. I am a good sniper and pride myself on countersniping afterall. Its the closest thing to a duel this game will provide and to the victor often goes a sense of satasfaction. I shouldn't need to explain the basics of look where the target is, get a sightline then end his life. Those are the usual steps you will take to make yourself a successful countersniper. The more obscure and gear dependant things you can do is harass him with a MAV if you cannot get a sightline fast. he'll get aggitated or shot because of constant sensor or spotting and that solves the problem all on its own. The other is the standard sniper practice of using negative space which will be covered later in this guide.
--II : High Priority Targets :
Drivers, Jet Pilots, and other snipers usually round out this list of opponents you'll want to smoke as quickly as possible. Occasionally someone on a stationary weapon system will require shooting but a stationary target requires no real training outside of basic gunnery and shooting. Just be aware of whats going on and what you can do to deal with these opponents as they show up.
Now I'm also not saying spray at the Jet Pilot, if you get him fantastic, but another jet will soon replace him. High Priority also means direct danger to your teammates. Two jeeps going to two different locations for example both full of enemy soldiers. The one closest to your teammates, not you, is the one you need to be concerned with. This is twofold, if they are near you or passing by its far more likely they are headed to another objective and do not pose a direct threat, and if they are after you with a fully manned vehicle its not likely you will survive anyway. Stay calm and eliminate what you can near your team. 
I: Gunnery Basic

--I : Scope Sway and you :
The scope sway in this game is unlike any game in the Battlefield serise so far. It is almost completely random and does not have any defining pattern at all. This is why you are given the ability to hold your breath when you fire. A small window of time passes where the scope steadies not to the center of your aim but where it is at that moment. This is a strange occurance and rewards someone who is quick to aim and follow up if necessary a good opportunity to correct a whiffted shot.
This is not always easily overcome however, under heavy suppression or in awkward shooting angles this can be an evil you will simply be forced to deal with. It was intended to slow you down in that respect just like getting up from prone does. Keep this in mind when your decision making process begins because what happens in your mind soon translates its way into the game and thats where your mistakes will be shown. Remember that its just as much mental as it is physical.
--II : The art of the Quick Scope (wtf?) :
Oh boy is this charted waters. Filled with rants, hate and way to much complaining. Bottom line if you play hardcore get ready to be bolt action Quick scoped or no scoped or randomly shot at close range as they all do around 75 damage and you have 60 health. Oh yeah. If you play core coincidentally it is just harder but not impossible as all sniper rifles have a headshot modifier that is somewhere in the 3x + section that make headshots fatal most anywhere. Im fast enough to do this on reaction. Some other guys may be as well. If your one of those guys who takes their sniper rifle with them no matter the consequences this is a skill you'd be smart to invest in mastering. If your against this simply remember Iron Maiden said it best "Be quick or be dead".
--III : Who to shoot first :
Natural target selection is based on several equasions that I could bore you to death with using numbers charts and all that fancy math. I'll save you what I never save my friends and keep this approach as practical as possible.
Bottom line really, shoot the most dangerious enemy first and do not hesitate. Even if you near miss he is suffering slightly from the suppression aspect of the game and may miss anyone he is currently engaged in fighting.
This changes drastically depending on location team build and team needs. Obviously if your mostly armor go for engineers if you can pick them out. Same if your infantry Support or Recon soldiers need to be taken down before anyone else in this instance. Assault holds an interesting spot here though. As medics as a general rule on an infantry vs infantry basic you kill them first, fiercely, effeciently, and as often as possible. This creates instability at the opponents frontline. If they cannot hold it they cannot keep pressure freeing you up to do as you please.
--IV: Spotting Things :
This is more important than shooting. If you do not let your team know where some guy is, he could potentially be a recon setting your conquest game up for failure with his MSP and if his squad spawns on him or his MSP its a world of hurt for your backline unsuspecting guys. I say its more important because if you somehow fail in killing them or are just unable to do so. That entire team is now aware of their presence. I promise it won't end well for them. In addition this also gets you good point bonuses for leveling up you recon kit faster something that will come with time.
--V: D.O.P.E. Shots :
This is an actual real life acryonym used by anyone who shoots at long distances on a regular basis, it means Data On Previous Engagements, or "Dope". While this information would be handy in a small data pad or notebook for me at the shooting range. Its not quite the same in battlefield. You'll no doubt read this some where in my post and it basically means shooting a bullet once setup to see where my my bullet goes down my scope. Using flat buildings as targets you can easily see exactly where you need your shot placement to go. Combine this with the "Gunnery Advanced" Section to make very precice shots from almost no previous expierence.
----1: Recoil Dependency:
We already know recoil is an issue with semi auto's however it is also a big issue when DOPE shots matter. When dealing with the SV98 or M40A5 recoil is small and will allow you to easily DOPE your next shot. However due to some study with different scopes and rifles any "Magnum" rifle such as the M98B and L-96 cause your scopes reset time if you stay scoped in do DOPE your shot, to be longer. Resulting in a pseudo DOPE shot. This means that you will have to be able to visually hold the spot where the bullet impacts and keep your eye from settling on the crosshairs. They will resettle where they are supposed to be from the previous shot if using a bipod. This is the ONLY way to dope the L-96 and M98B properly. Lighter rifles like the M40 and even the EMR do not have this issue. This reinforces the need for math or atleast a good deal of expierence with the "Magnum" guns in order to gain a real proficiency with them. Those precice shots will require a bipod or a very very skilled shooter.
Continued In next post...
Edited by Maker, 17 July 2012 - 10:07 PM.